Rotator cuff tears is one of the most common causes of shoulder pain. A torn rotator cuff can also cause weakness of the shoulder.
What is a rotator cuff tear?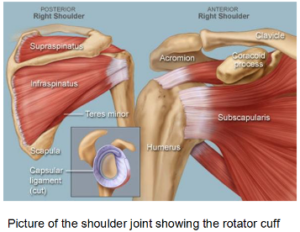 Our shoulder joint is like a ball (the upper end of the humerus bone) and socket (glenoid). The ball is larger than the socket. The Rotator Cuff muscles are those muscles that surround the shoulder joint. There are four muscles, which combine to form a sheet of tendon and attach on to the upper end of the humerus bone.Their job is to provide the power to lift and rotate the arm and to make sure the ball is within the socket while moving the shoulder.
As one ages these muscles become thinner and are prone to rupture, sometimes with minimal injury. Unfortunately when the Rotator Cuff muscles tears completely they do not repair themselves. Leaving them unattended can lead to progression of the tear. As the tear becomes larger, there can be progressive loss of motion and power in the shoulder. The longer a large tear is left ,the bigger it gets and the more motion and power one loses. Also, the surgical result is likely to be better with a smaller tears than a larger tears and thus it is better to address them in earlier stages.