Meet Dr. Srivatsa Subramanya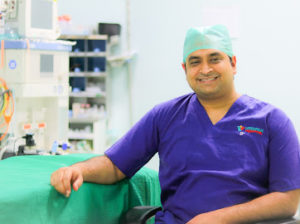 Dr. Srivatsa Subramanya is an Orthopedic surgeon and a shoulder and knee specialist in Bangalore. He brings in a truly global experience in shoulder and knee surgery. He has completed his specialist training from Madras Medical College, which has the biggest Orthopedics department in the country. After specialization, he has worked in leading hospitals around the globe learning the best of shoulder and knee surgeries. While in Australia, he was the recipient of the prestigious Melbourne Knee Fellowship (St Vincent's Hospital) and the Orthoclinic Sydney fellowship in shoulder and elbow. He holds another fellowship in Shoulder and Elbow from Ospedale De Cervesi, Italy. He was the Tohoku University traveling fellow of the year 2015, during which he visited Japan furthering his experience in shoulder and knee surgeries. He has also completed a fellowship in orthopedic trauma from Seoul, South Korea.
He has a vast experience in managing both degenerative and sports-related conditions of Shoulder and Knee joints. He is an expert in joint preservation, reconstructive and replacement surgeries. He has been a part of the team which takes care of elite football and athletic teams in Australia and Italy. He is proficient in performing traditional surgeries like arthroscopies, Ligament reconstruction and Replacement. He is also at the fore front of newer techniques like meniscal transplants, cartilage reconstructions, multi-ligament reconstructions using allografts and uni-compartmental knee replacements. He is well versed with computer navigation and patient-specific instrumentation and minimally invasive surgeries for knee and shoulder replacements. He has been an invited faculty in international joint reconstruction meetings and has published articles in prestigious journals.
Viscosupplementation is most of the time an outpatient procedure, which takes a few minutes. It does not involve inpatient admission. Most of the preparations that are currently available need only a single injection.

Role of healthcare advances in delivering quality care and bringing improvements in success rates has been remarkable.

During the past several years, much has been written about a preparation called platelet-rich plasma (PRP) and its potential effectiveness in the treatment of injuries.

Osteoarthritis of the knee (KOA) occurs when the cartilage — the joint\'s natural cushioning system — breaks down in the knee.